The E-Z Built Hot Dog Cart Video and Plans Package.
You CAN Build Your Own Hot Dog Cart For $797 In Hardware Store Parts. These E-Z Videos Show You How.
NEW – Build In Wood Or Metal. They're Both E-Z!
If you can butter toast, you can build your own professional hot dog cart and use it to make money now. No welding, no riveting. No need for special parts like fuel rails or gas valves. In fact, you can get everything to build this cart at your neighborhood hardware store. And you won't need any special tools or skills either.
Dale is a full time hot dog vendor running two E-Z Built Hot Dog Carts in Reno Nevada. He built them himself using our video and plans package, then he sent us this nice video. Enjoy!
From: Steve Schaible, founder of King Weenie Chicago Style Hot Dogs, Frank and Chips Hot Dogs, author of the Hot Dog Profits Training System, and designer of the E-Z Built Hot Dog Cart. -St. Louis, MO

A five minute conversation made me totally unemployable…
Like you, I had been thinking about starting my own hot dog cart business but hadn't actually gotten going. I had done the research and I knew that a lot of people were making really good money at it.
One day I decided to ask a very successful self-employed friend for advice. And that's when he said the words that made everything click…
"When you work for someone else, you get paid less than you're worth…"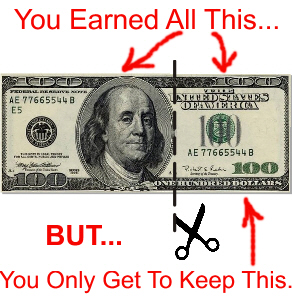 As he explained it, it's just simple math. The work you do produces a certain amount of income for the company. They must pay you less money than you bring in if they want to make a profit.
Then he put it another way, "The only reason I ever hire someone is to make money off them." Those were the words that made it impossible for me to work for someone else ever again.
It was time to start my hot dog vending business.
And that's when I ran into a BIG problem.
I didn't have the money for a new cart or even a decent used one. So I decided to build one myself.
I searched everywhere for a good set of plans. No luck. I settled for a cheap set of plans on eBay. They were worthless. I threw 'em in the garbage.
I was not going to give up – I designed my own cart, built it for less than $500, and started selling hot dogs. My business was so successful that in the space of one year I had five people who wanted to buy it.
I got an offer that was too good to refuse and I sold my hotdog business for $XX,000 (I can't tell you the exact purchase price, but it was well into five figures.)
What a pay day! But…
Part of the deal was a non-compete agreement.
I was prohibited from selling hot dogs for one year. Now what was I going to do? After golf got boring, I got the idea to create a course teaching other folks how to start a hot dog vending business. It's called "Carts of Cash" and it's available in my Hot Dog Biz 101 package.
It was (and still is) a huge seller. Why? Because this business is so inexpensive to start and it succeeds for just about every one who is willing to work at it.
In the city or out in the country – it doesn't matter. I was successful in a rural Missouri town with less than 8000 people.
You can do it full time (4 hours a day) and make a great living, or just work fairs and festivals on weekends to pay off some debt.
Or maybe you just want to be able to buy those special things that you and your family could never afford…
Like I said, everyone loves my course, but they all ask me…
"How do I build a cart like the one you started with?"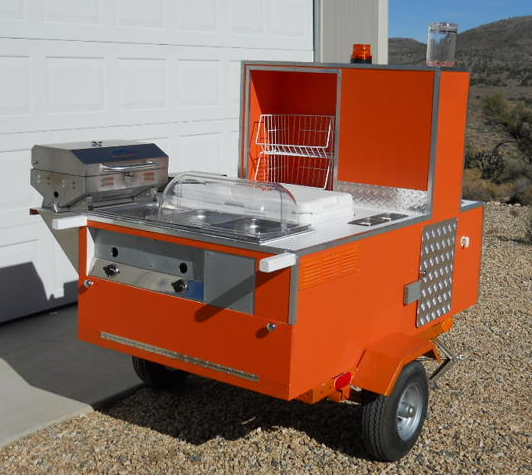 I couldn't give them a good answer. I didn't have any real plans on paper, just some sketches. And besides – unless you're an engineer or draftsman, most people can't build anything from just a set of plans anyway.
In order to really teach people how to do it, I knew I would have to build a brand new and improved cart from scratch and video tape the entire process.
I never release a course unless it gives everyday folks every possible advantage.
So before I agreed to the project I had to tell my students, "I'll build it but I won't release the videos unless the finished cart meets these 10 criteria…"
The E-Z Built Hot Dog cart can be built for less than $500.
Many of the parts used to build this cart can be purchased used at flea markets and garage sales. You may already have some of the more common items at home.
I kept costs and complexity down by not using fancy parts like fuel rails and gas valves. I mean what's the point of building it yourself if you have to buy parts from a hot dog cart manufacturer anyways?
Your local hardware store will do just fine.
Of course the final cost will depend on two factors: how many used parts you can find, and how you choose to equip it.

The E-Z Built Hot Dog Cart that you'll see in the videos was built to pass very strict codes and includes an electric water pump and propane fired water heater. We pioneered the use of this technology on food carts. These are features that weren't available on any commercial cart until very recently.
In fact, the advanced engineering found on the E-Z Built makes it the most copied cart in the history of our industry. We have a long string of firsts – and we're still the best.
I suggest incorporating the hot water system into your cart for three reasons.
First, the water system performs so much better with a pump and heater. Factory built carts have notoriously bad water systems.
Second, your local codes may not require these features, but if you decide to work a fair or festival in another town the codes may be more strict.
Third, the trend is toward stricter codes so build your cart to pass now and in the future. You're already saving over $3000 – spend an extra $150 for a pump and heater. We show you how to do it in the videos. We even give you sources for all the parts. It's E-Z!
It is certainly possible to build the E-Z Built for under $500 with some used items.
However, we used 100% brand new parts and materials (including the water pump and heater) and our cost was $797 complete.
You'll save $2700 over a similarly equipped manufactured unit from the quality cart builders.

Once you get started, you can hire someone to work the cart and start looking for location number two. In a season or two you could have five carts out there earning money for you.
If you build them yourself you'll save over $13,000.
The E-Z Built passes the health codes.
Every county has it's own equipment requirements for mobile food carts. The main difference from one location to the next is usually the number of sinks that your cart must have.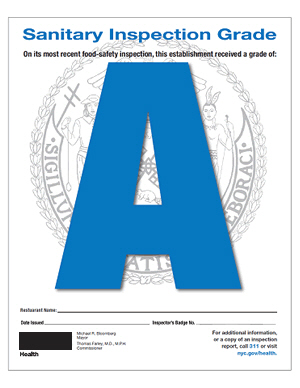 Our plans come with four different sets of schematics so you can equip your cart with up to four sinks. We also tell you how to find out exactly how your cart must be set up so you will be assured of passing before you even start building.
Contrary to what you may have read in some of the forums, manufactured carts don't pass health inspections any easier than a home built model.

Order a cart from a manufacturer and the first thing he will say is, "What equipment do you need? We have to build each cart to the customer's local health code."
The truth is each and every cart must be custom built. That's why you will usually have to wait three weeks or more for a manufactured cart that costs $3200 more than the E-Z Built.
One of the most common questions I get is how does a wooden cart pass the health inspection? One word – paint. Most codes prohibit porous surfaces in a food prep area. Bare wood is a no-no, but if the cart is painted inside and out 99% of the inspectors pass it – no problem.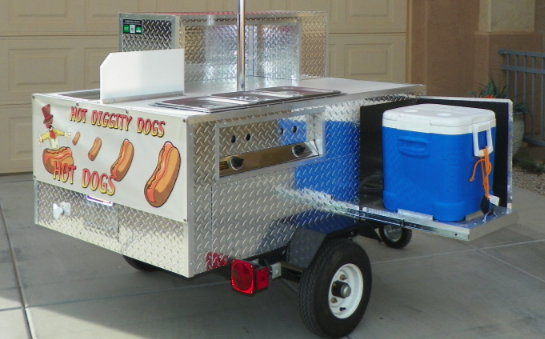 Do you want a metal cart? We've got you covered.
Just watch my "Metal Secrets" video (included) and you'll end up with a bright, shiny metal cart in no time. It's just as simple to put together, and our construction method produces a cart that is free from the rattles and flimsiness of traditionally constructed metal carts.
No welding. No riveting. No fancy tools or skills required. It's truly E-Z!
No special tools or skills required.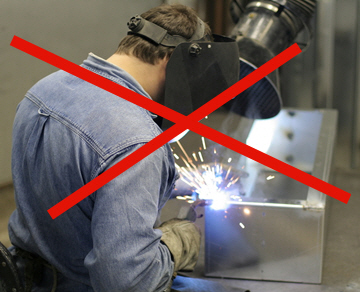 If you can drill a hole, screw a screw, cut with scissors, and saw a piece of wood, you can build your own cart.
We even invented a unique way to make the firebox with no welding, riveting or fancy sheet metal skills of any kind.
The best part is there's no guess work. You'll see exactly how it's done step by step on video. Come on over and join me in my home garage as I build an E-Z Built Hot Dog Cart from start to finish (we'll have a few laughs too). Just follow along and do what I do – you can't make a mistake.
If you can butter toast, you can build this cart.
Uses common, locally available parts and materials.
The basic E-Z Built model is constructed with thin plywood over a simple wooden frame. All exposed wood is then painted to seal the porosity. This satisfies the vast majority of health codes.
You will be able to find everything you need at places like Home Depot, WalMart, RV centers, and the local hardware store. The only thing you may not be able to find locally is the water heater, but we'll tell you the best place to order it from.
The plans come with a detailed Bill of Materials that lists every single thing you will need, all the way down to the number and type of screws.
We also give you sources where to find everything.
Optional Metal Construction.
If you like the looks of a metal cart, or if your inspector requires metal construction, we've got you covered. The E-Z Built Video and Plans Package now comes with a fifth DVD just for you metal lovers.
The new "E-Z Built Metal Secrets" DVD will show you everything you need to know so you can hit the streets with a shiny metal food cart, indistinguishable from manufactured units costing $6000 and more.
And in the spirit of keeping it E-Z, there is still no welding, riveting, or sheet metal skills required. In fact, it's just as easy to put together as our base model cart.
Easily customized.

Let's face it. No two food vendors serve the exact same foods or use the exact same equipment. You want your cart to be able to do exactly what you want it to do. That is why the E-Z Built Hot Dog Cart was designed from the beginning to be easily customized. You can make it as big as you want, mount any equipment you want, and configure it any way you want. After you watch the step by step videos you will know how to build your dream cart – the one that until know has been out of reach.
That is exactly what Jack did. Here is what happens when you combine the E-Z Built Video and Plans package with a burning desire to have the cart of your dreams…
Lee built his E-Z Built as a stand-in model. He used a larger trailer frame and torsion axles so he could stand in the middle of the action!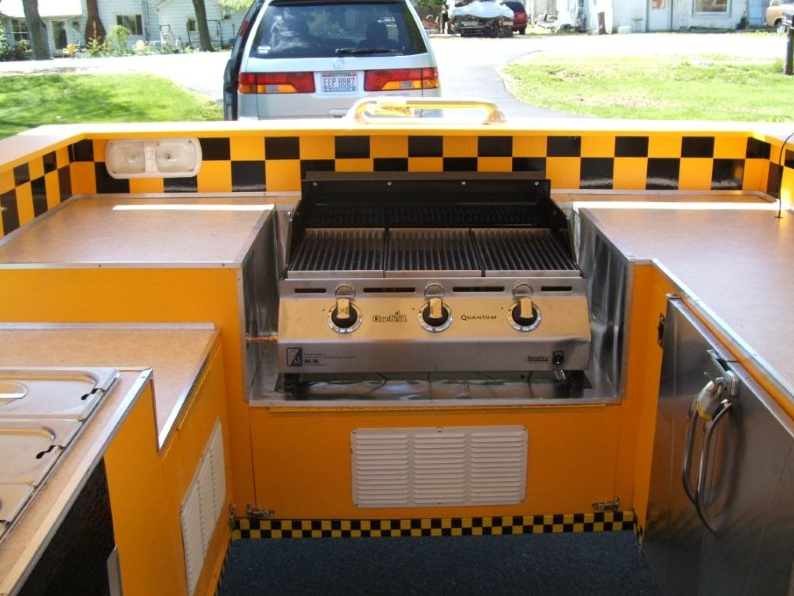 Mark Hentrich operates "Good Doggy Hot Dogs" in Michigan. He built his E-Z Built as an enclosed model for under $1000. He used hollow core doors (genius!) to create the "house" and then outfitted the interior with steamers, sinks, water heater, etc exactly as shown in our video and plans package. Mark sent us a video of his enclosed E-Z Built Hot Dog Cart. Click on it to watch it below.
Grow your business easily. Dale is absolutely killing it in Reno and he is about to build a third E-Z Built to add to his fleet. A huge benefit of building your own hot dog cart with the E-Z Built Video and Plans Package is that you can grow your business incredibly cheaply and quickly whenever a new location presents itself.
Rick purchased the E-Z Built Video and Plans Package… And built a shaved ice cart. Nice! As you can see, the plans and videos are a great jumping off point to build a food cart. Any food cart. You can follow the videos to a "T" and build the yellow hot dog cart that you see at the top of this page, or let your mind take flight and customize your cart to serve all sorts of gourmet street foods.
If you can dream it, you can build it. The only limit is your imagination.
Builds lightning fast so you can start making money now.
The average person should be able to put this cart together in a few days. If you can only work on it evenings and weekends, you should finish it in less than two weeks.
The longest part is waiting for the paint to dry…
Capacity to work the biggest events with ease.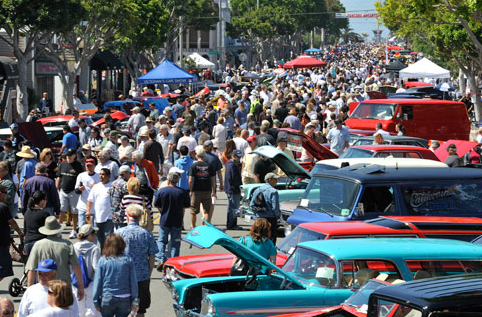 Want to work the big fairs, festivals and car shows? No problemo. The E-Z Built was designed to be all the cart you'll ever need. Here's why…
Most manufactured carts only have three 1/3 size pans.
The standard E-Z Built has a full size steam table that holds three 1/3 size pans, PLUS a half size pan over direct heat for fast cooking.That's 150% more cooking capacity which means you can be 150% more profitable.
But that's just the stock version. You can easily stretch the cart body to give you room for a SECOND cooking station PLUS a grill, PLUS a flat top griddle, PLUS a… well you get the idea.
Why pay thousands more for much, much less?
Towable behind the smallest of vehicles.
Our construction technique produces a cart so light that it can be pulled by a bicycle, but I personally wouldn't try it. It sounds too much like excercise…
Seriously, you'll never even know it's behind you.
Pushable by the smallest of people.
Tow it close to your location, un-hitch it, then use the built in handles to push it down the sidewalk or through the park.
It's easy to sell your hot dogs in these profitable places where vehicles are prohibited.
Easily titled.
The E-Z Built is constructed on a standard, DOT approved utility trailer frame.
The cart body is bolted to the frame, not welded. Since the body is removable and the trailer frame is unaltered, you simply title it as a utility trailer, not as a food cart.
As you can see – it surpassed all of my expectations…
(Click the pictures for a larger version)
Want a sneak peek? Take a look…
You get instant online access to all this…


Step by Step Construction Videos

60 Videos – 5 3/4 Hours
My crew videotaped the entire construction process from start to finish. It's all here, step by step. Just follow me and you can't make a mistake.
Disc 1
Introduction
Trailer Frame Assembly
Cart Frame Assembly
Cart Top Installation
Disc 2
Firebox Construction
Cooler Installation
Water Tower
Water Tanks
Sink
Pedestals
Disc 3
Tank Modifications
Water Heater
Copper Tubing
Cart Body Skins
Tank Supports
Heater Mounts
Propane Strap
Propane Connections
Water Tower Skins
Cart Sides
Side Door
Disc 4
Rear Panel and Door
Trim Strips
Water Tower Top
Paint Prep
Caster Wheel
Body Mounting
Propane Block
Waste Tank Vent
Sink Bowl
Water Tank Vent Filter
Front Vent
Plumbing
Gas Leak Testing
Propane Safety Chain
Umbrella Installation

Detailed Plans Set

CAD drawings with front, back, top, and side views with critical dimensions, and construction details.

During the design process we solicited input from our Carts of Cash Hot Dog Cart Course students.

Many said that they already owned a utility trailer, so these plans are designed to be adapted to a wide variety of trailer sizes.

The E-Z Built Cart can be built in many different configurations with a wide variety of equipment.

Full Color Schematics Including California Version

"Schematics" are simply drawings which show the different systems on your hot dog cart. They are color coded to show the gas, hot water, and cold water lines.

Many health departments require you to submit schematics during the inspection process.

Our package includes four different schematics. Use the one which matches the number of sinks you will be installing.

These high quality drawings will definitely "grease the wheels" during the permitting process.

Bill of Materials With Parts Sources
Each and every part is listed along with sizes and
quantities.

Also included is a sourcing guide that tells you
exactly where to find everything you need.

The E-Z Built Hot Dog cart is designed to be built
using locally available parts and materials.

However, we also include internet sources for some
parts, in case you can't find them near you.
Let's Get Started.
The E-Z Built package includes…
Step by Step Construction Videos

Metal Secrets Video

Detailed Plans and Instruction Set

Full Color Schematics Including California Version

Bill of Materials With Parts Sources

Personal Help Whenever You Need It
Want a Brand New Professional Hot Dog Cart For Under $800? It's E-Z!

_____________________________________________________
BONUS: The E-Z Built Hot Dog Cart Video and Plans Package now includes access to the entire suite of Hot Dog Profits Premium Training Courses!
You'll get instant online access to the E-Z Built Hot Dog Cart videos and plans. You can watch them on any computer, smart phone, iPad or tablet anywhere you have an internet connection. You can start watching the videos and print out the paper plans right now – even if it's 2 AM!
PLUS you'll also get online access to my 250 page Hot Dog Cart Business Training Program "Carts of Cash" AND my 65 video advanced training "A Day at the Hot Dog Cart".
ON SALE! Click "Add to Cart" to check current pricing.
This is a one time payment, NOT a monthly fee.
Want to order by phone? Have some questions? Yes, I answer my own phone! Call me on my personal cell phone at (636) 399-2460.
Questions?
You can find the answers to the most commonly asked questions here.
How long have you been kicking around the idea of owning your own hot dog vending business? A long time I bet. You're not alone.
I just spoke to a very nice lady who previously purchased my hot dog cart business course, Hot Dog Biz 101. She said she had been thinking
about it for fifteen years. I asked her why she waited so long. She had no idea. But after she saw how easy it is, she said, "I wish I would have done this years ago!"
Don't wait that long. Especially now that you have access to these new videos and can get started more easily and cheaply than ever before.
There is no easier business to start. There is no business you can get into for such a tiny investment that is truly scalable into a six figure business.
Take the first step today. Order the E-Z Built Hot Dog Cart Video and Plans Package now.
Now is the time to do something to finally make a difference in your life. Taking control of your income is the best decision you will ever make.
Even if you just work the occasional weekend fair, car show, festival or craft show, your E-Z Built Hot Dog Cart will be your safety net. You will know that you can make instant cash money at a moments notice.
Every day is pay day.
It's your "Plan B" in case the worst happens. And right now we all need a backup plan…
– Steve
Privacy Policy Earnings Disclaimer Terms and Conditions
Hot Dog Carts